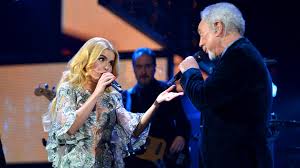 We wanted to share with you a really special evening that Halina had recently with the Gasworks Community Choir and so here is her account of the event below, and if you want to see the video, with Tom Jones and Paloma Faith, see if you can spot Halina in the choir!
"Good morning from a still very fizzing with excitement … it was such a treat to be there. Biggest music event in UK in 2014 excluding the big music festivals + first BBC Music awards + last time Earl's Court will be used for anything + last people ever to sing on stage at Earl's Court. It is now being demolished for up market housing.  So an iconic moment all round.  And it was amazing being on the front row. Looking at the audience was mind blowing! The biggest audience ever that I have performed in front of.  And it was simply a question of saying yes and having no expectations except to enjoy the whole day with all the waiting around as part of the one off experience.
Shook hands with Gary Barlow from Take That – he's really short!  Met Chris Harris. Shared that stage with Tom Jones and Paloma Faith … is there no end …. Worked with David and Carrie Grant of Fame Academy fame and our very own dedicated choreographer James! Special for sure.  So lucky to have been there.
Thank you for the congratulations … I eventually went to bed at about 4am – arrived home at just before 1am. It was very stormy here when I got back and overnight but once in bed I was sound asleep.  And probably soaring with the excitement on Cloud 9 as you say.  Such a treat to have been on the front row and spotted.  Amazing to experience how a live TV programme was put together.
Halina Jaroszewska, PCC